We do, internally, the extraction of the red clay used in the fabrication of our products.
WATER REUSE & WASTE PROPER
USE
We assure the reuse of water resources through cleaning processes and their reuse in the production process, with our own treatment centers in our facilities.
REUSE OF ENERGY
FROM FURNACES
The heat generated by the ovens when the pieces are baked is used for other stages of the production process, reducing gas emissions and meeting the objectives of the Kyoto protocol.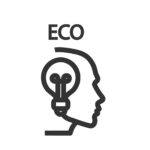 ECO DESIGN SUSTAINABLE
CREATIVITY
The design of our products is concerned with ergonomics, functionality, production costs and life cycle. The use of glass and paint without heavy metals is intended to reduce our environmental impact. In return, the finished product does not emit dangerous compounds as a result of being baked at high temperatures.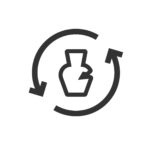 The recycling of the clay is done through the integration of the excesses, coming from the production process, after confirming its perfect state for the production of new pieces.
The packaging used for ours products is fully recycled, consisting mostly of cardboard. The use of plastic was reduced to a minimum with the use of honeycomb cardboard, as an alternative to the usual styrofoam or bubble wrap.